Hi, how can we help you?
Find the answers to your questions below.
Getting Ready for Lessons
Although most children are excited about learning to swim, there are some who are anxious or fearful. Without lessons these children only become more fearful as time elapses. Be soothing but firm, as you would with visits to the doctor. You know your child best; so if you think it is appropriate to have a lesson or two with no "dunks", let the instructor know. As the instructor builds rapport with your child and overcomes a few hurdles, your child should become more confident and excited about lessons.
Requirements
Swimsuit
Towel
Long hair tied back away from face or swim cap worn
Soap showers before entering the pool
Children under the age of three (3) years old, or older if not potty trained, must wear two (2) swim diapers that are Health Department approved. No disposable swim diapers! Diapers are available for sale in our retail area.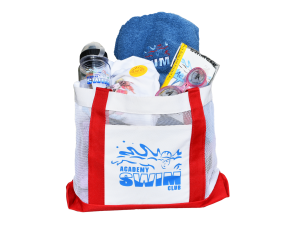 Pro Tips
Talk about upcoming lessons with some excitement, using the instructor's name often
Show them who their instructor will be on our Meet Your Teacher webpage
Show them how cool, colorful and fun our facility is by watching our exciting, and informative, Learn to Swim YouTube video
Let your child know that you will watch the lesson
Please do not allow your child to eat any meat or dairy products within 2 hours of your lesson. With anxiety or rigorous exercise, we could be shutting down the pool
**Goggles are not recommended for the first lesson so that your child may be properly assessed at one of our levels. But, you may bring them just in case or purchase them in our retail area.
How Often?
For beginners, we recommend three lessons a week for the best results, but we understand that is not always possible. One lesson per week may require patience in skill acquisition. Sometimes, adding an occasional private lesson or two during multiple weeks of group lessons can make a world of difference.
**Please remember that there are certain risks involved with swimming and related activities. Please support water safety by reminding your children about appropriate conduct in and around water. Also, remember that although your children may pass certain skill levels during classes, all children need supervision around or near water at all times and it is dangerous to assume that any child is water "safe." We teach many children with various special needs, so please share helpful information with us. If there are any questions or concerns about your child's involvement in a learn-to-swim program, please consult your pediatrician.