This summer we went to Disneyland and Hawaii, both a lot of swimming.  I can't tell you how many people were amazed by the way Timmy and Sofie are swimming.  They are little fish and I honestly owe my deepest thank you and appreciation…
S.A. – Santa Clarita

We are thankful for your program. Without the training and instruction received over the years, there is no doubt that both of our children would have succumbed to the water.…we have found this to be an extremely positive experience…your staff and teachers are always so motivating…
S.M. – Valencia

I'd like to take this opportunity to express my gratitude to our instructor for the wonderful experience we have had swimming this session.  His weekly presence shows me a work ethic that I highly respect that also translates into a trusting bond for my child…
C.S. – Stevenson Ranch

Nathan, during Christmas breakfast fell into my brother-in-law's pool fully dressed.  He swam to the side of the pool, pulled his head up and held on to the edge.  As parents everyone knows how one brief situation can change everything.  We are grateful…
S.L. – Canyon Country

Today my son Conner had his birthday party at Academy Swim Club and I wanted to let you know how pleased everyone was with the event.  Not only did the ten kids have a ball, but the adults who were watching all mentioned to me how nice the party was.  I'd also like to tell you how happy I was with our two hosts/lifeguards, they took care of everything.  It was quite evident that they really enjoyed their work.  They really made the party a huge success.  I'd recommend your club to anyone who wants a well run, professional, safe swim party.
R.L.- Valencia

I watched as he coached Tony through jumping into the deep end, floating on his back, turning over and floating on his stomach, turning over again and floating on his back, turning again, kicking to the side of the pool, and then finally pulling himself out of the water…and that's when I realized that this man was teaching my child not just to swim, but to save his own life.  I was stunned and so very grateful!
C.P. – Valencia

Your business and employees are of great benefit to our community.  I hope your Swim Club continues to flourish.  I know that many kids' lives are saved by what you do for a living.
C.J. – Stevenson Ranch

We enrolled our son, Daniel, in your program in April and now, as promised, he is swimming beautifully.  We have found this to be an extremely positive experience.  Your staff and teachers are always so motivating.  Their instructions are clearly and kindly conveyed and Daniel has had such a good time learning a necessary and important lifetime skill.  He has had the pleasure of learning from several instructors.  He began as a Blowfish and is now swimming at a Seahorse level.  We have witnessed many, if not all, of your teachers work and see a consistency in the way they teach. Because of this consistency we realize that no matter who teaches the class, Daniel is comfortable and able to adjust quickly.  Thank you again; your enthusiasm for teaching is greatly appreciated.
L.S.- Santa Clarita
Academy Swim is the best!
My two children were both proficient swimmers by the time they were 3 years old. My daughter started attending private lessons at age 2 and I brought my son to the baby swim classes when he was 9 months old. My daughter is now 8 at the shark swim level and my son is 6 at the seal level.
The instructors and office staff are great. My children love coming to Academy Swim each week. They love the staff and the instructors. I couldn't ask for a better environment to bring my children to each week.
We've had 3 birthday parties at Academy Swim – all 3 were amazing and all our guests were thoroughly impressed with the service.
Bottom line, 5 star all the way and a terrific group of folks!
I just wanted to take the time and thank you so very much for all you have done for my son, Kolby. When he started back in September, he was so intimidated by the water and all the new things he was being taught. Since he has been at Academy Swim, he has so much more confidence and has learned a lot. I feel so much safer with all the exciting things he has learned and will continue to learn and maybe next simmer he will surprise us all. I think whether anyone who has a swimming pool or not should get thier child into swim lessons because anything can happen and I would definitely recommend Academy Swim. Money is nothing when it comes to your child's safety. If you can spend $150 shopping, then you can spend it on your child!
Thank you so very much!
We would like to express our appreciation to you for the WONDERFUL experience our two boys had during their swim lessons. Our four-year-old son went from not really enjoying the pool, being content on the steps on the spa, to doing flips off a three foot wall into the deep end in only a matter of weeks. Our five year old now loves to put his face in the water, dive for things a the bottom of the pool and practice his stroke. Your program instilled in both of our children a CONFIDENCE in thier ability to overcome their fears and truly enjoy the water! Kendall was a GREAT instructor and helped them feel COMFORTABLE from day one; he made every lesson a FUN and REWARDING experience! Your facility was always meticulously CLEAN and TIDY which we LOVE and appreciate! We are so gratefull for the skills our young boys have learned which will help them to STAY SAFE and enjoy the fun that swimming has to offer! THANK YOU!!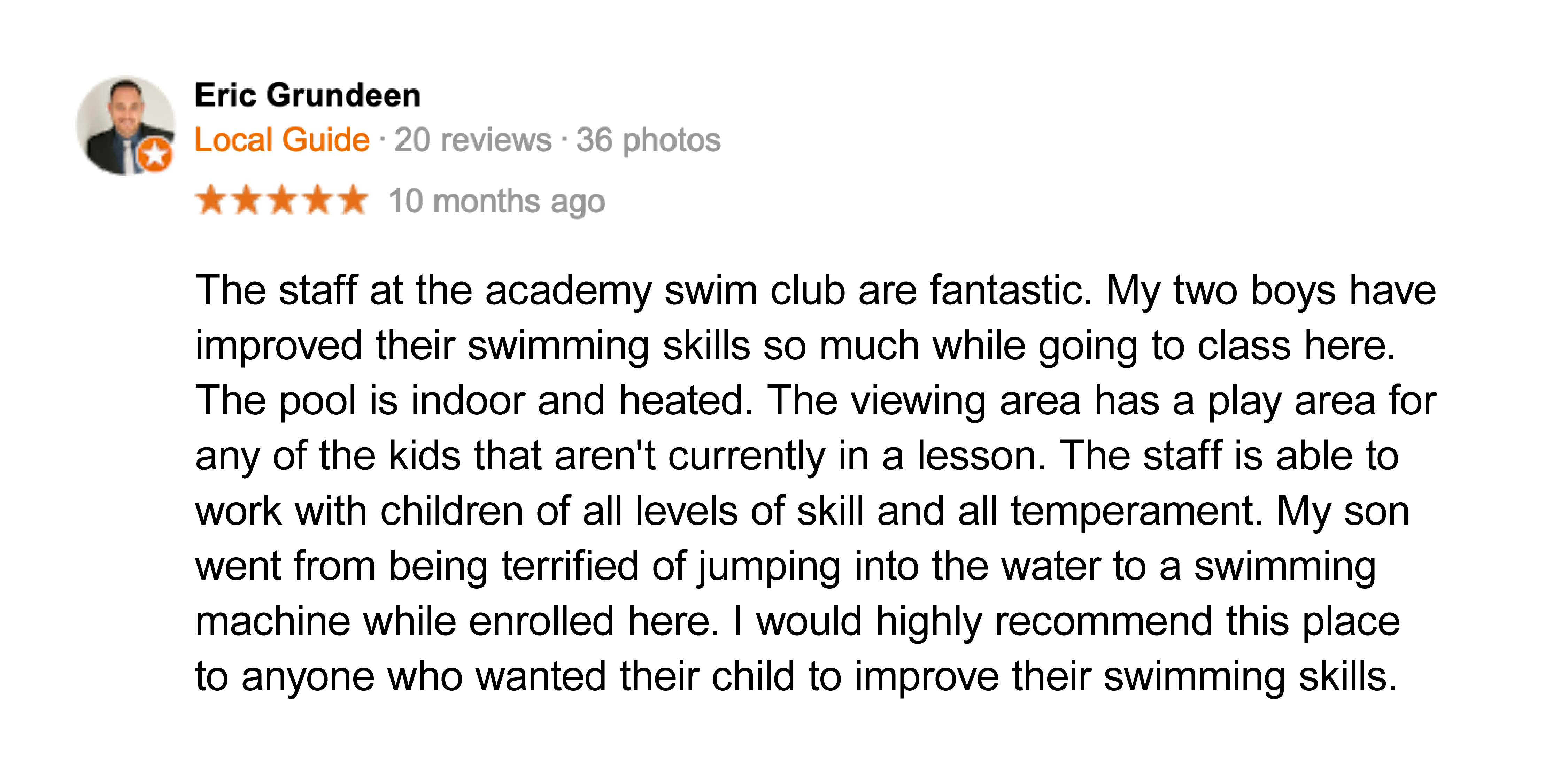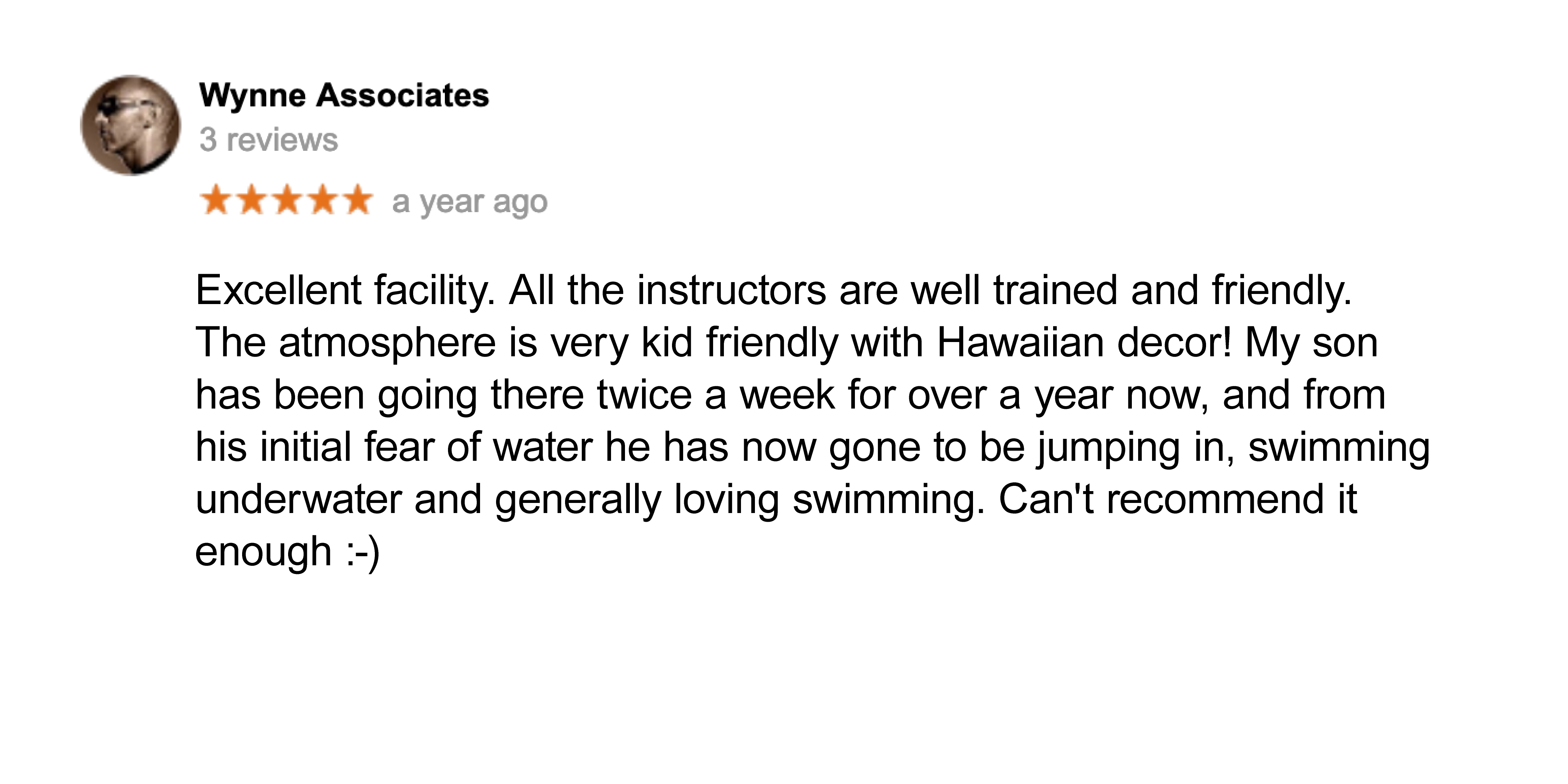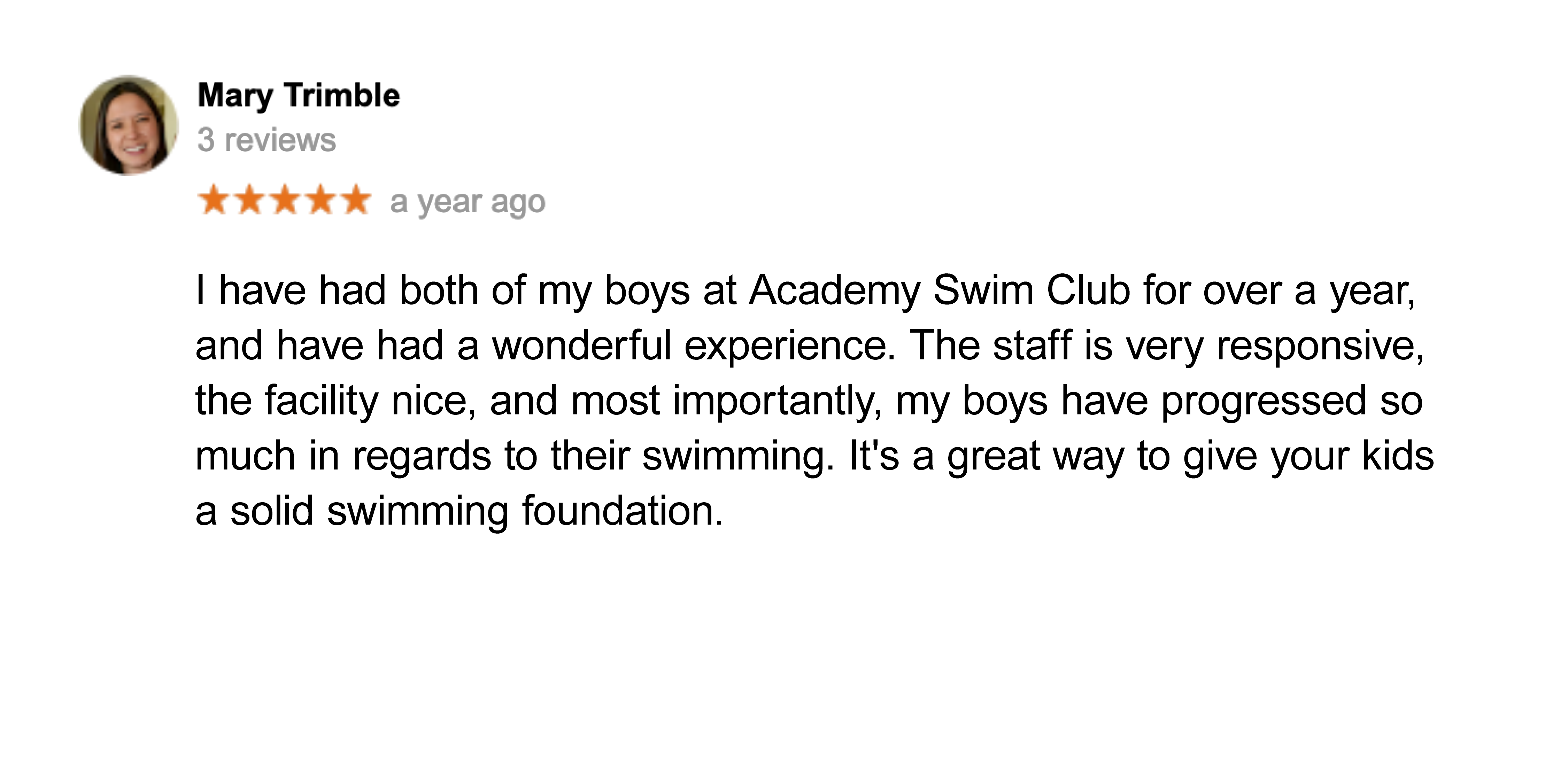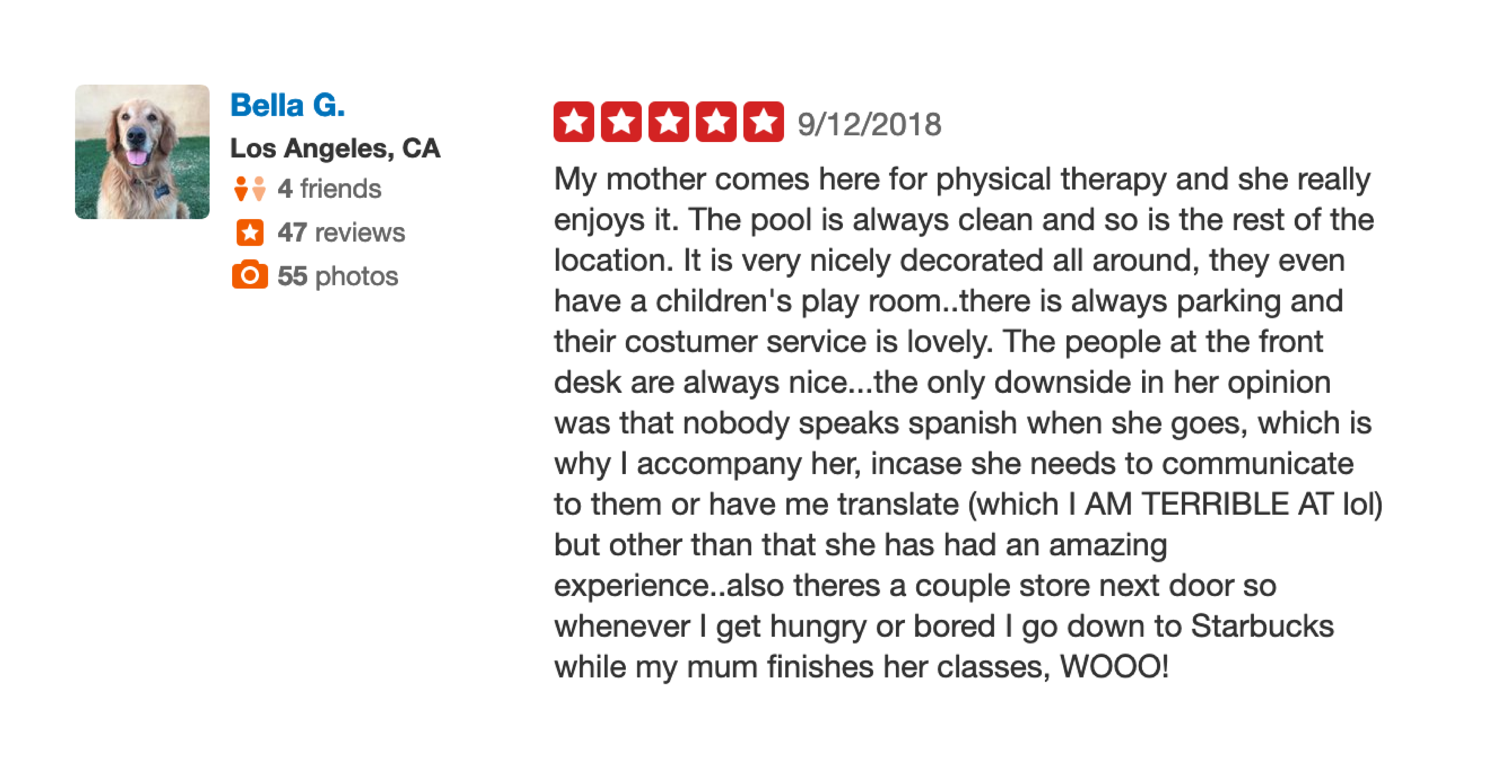 Guarantee
If you are not satisfied with any lesson, let us know that day and we will give you another lesson, FREE!